Quality Car Services in Lincoln, NE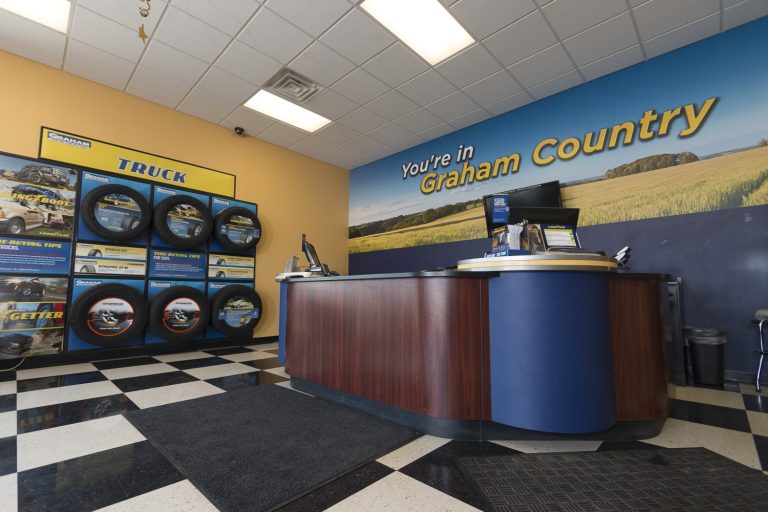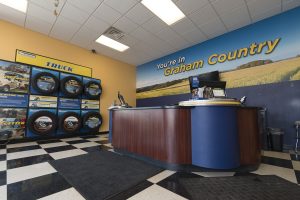 As one of the leading repair shops for car services in Lincoln, NE, our highly qualified mechanics perform top-notch automotive repair and mechanic services. Our mechanic shop works on many different vehicles, aided by quality truck and car repair equipment. Our auto repair shop is capable of servicing a variety of makes and models, from minivans, and passenger cars to SUVs. The superior standards here at Graham Tire show that our staff always has the best interest of our customers in mind.
Our priority is providing complete satisfaction for our customers and, as such, our car repair shop has a longstanding reputation for quality work. We pride ourselves on our customer service skills and ensuring our mechanics perform auto service repairs quickly and correctly. Whether you need routine auto maintenance or urgent car repair service in Lincoln, NE, give us a call at or visit us during business hours.
Our Quality Car Services in Lincoln, NE Includes:
Air Conditioning
Regular car air conditioning maintenance is important in reducing the risk of premature air compressor failure. We provide the most common service repairs for car air conditioning systems. Some of these include testing for refrigerant leaks and interior cabin temperature, restoration of proper system refrigerant and lubricant levels, and restoration of interior cooling ability.
Alloy Wheel Repair & Painting
Our alloy wheel repair specialist can restore your scratched, dinged, or faded alloy wheels to how they looked when they were brand-new. Want a new look for your ride but not yet ready to invest in a new set of wheels? We can repair and repaint them for you in a variety of custom colors.
Batteries
When your car won't start, most of the time it is due to a problem with your battery. Our technicians can help ensure your car will start as expected. Every time.
Belts and Hoses
By spotting early signs of wear and tear, you can avoid unexpected breakdowns and engine damage. Coverage for a car service in Lincoln, NE includes a comprehensive visual inspection, replacement, and adjusted fit for all existing and installed belts and hoses.
Brakes
The braking system is one of the most important parts of your vehicle. For safe stopping, you should have your brakes inspected regularly. We have both the equipment and trained technicians to maintain, repair, and inspect your brake system to ensure you're safe on the road and to help you avoid costly repairs in the future.
Check Engine Light
Engine diagnostic checks start by transmitting information from your vehicle's computer into a diagnostic tool. The mechanic will then properly diagnose the source of your vehicle's check engine light, supply a recommendation for repair, show you related symptoms and possible causes, and reset the check engine light.
Drivelines
The need for driveline car service in Lincoln, NE, is often due to worn-out and/or unlubricated universal joints. During your inspection, we will measure and refill the transmission fluid. Then, we will inspect the CV and universal joints for loss of lubricant, check for noises or vibration, and complete drive shaft repairs.
Heating & Coolant Systems
With regular upkeep to your vehicle's coolant system, your engine and radiator will be kept at a comfortable temperature. We will take a look at your heating and cooling systems to inspect radiator coolant levels, heating and cooling system controls, the blower, thermostat, compressor belt, and more.
Mufflers & Exhaust
Muffler upkeep and maintenance prevent harmful engine-exhaust gases from entering your vehicle, as well as reduce pollutants being released into the atmosphere. Most importantly, to the ones around you, it minimizes engine-exhaust noises.
Oil Change, Lube & Filter Service
An oil change service is the simplest yet most important preventative maintenance car service in Lincoln, NE. Engine oil keeps all of the moving parts in the engine operating smoothly and cleanses the engine. The oil continuously circulates through the oil filter to keep the oil clean of debris that could harm the engine. Over a period of time, the oil filter will start to lose its ability to clean, the oil becomes dirty and the lubrication qualities diminish. We recommend changing the oil, as well as the oil filter, every 3,000-5,000 miles. At Graham Tire, we are proud to offer conventional, synthetic blend, and full synthetic motor oils to meet your manufacturer recommendations.
Shocks and Struts
In addition to experiencing a comfortable ride, shocks and struts provide the critical function of keeping your wheels in proper contact with the road. This is vital to safe steering and braking.
Steering & Suspension
A car service in Lincoln, NE that helps refine your vehicle's steering and suspension could help eliminate premature tire wear, ultimately saving you hundreds of dollars. We will inspect all shocks, struts, and springs and replace worn and damaged steering or suspension.
Tire Repair
Properly inspecting tires and enlisting an expert is of the utmost importance for our tire repair and car service in Lincoln, NE. This includes dismounting and inspection of the tire to determine the cause of the damage. We also perform repairs in accordance with industry standards, proper plugging and patching, and rebalancing of the tire and wheel assembly.
Transmission Flush & Vehicle Fluids
Maintaining proper fluid levels and completing regular fluid flushes are directly related to vehicle performance and safety. We will flush your vehicle's brake, power steering, antifreeze, engine oil, and transmission fluids. We will also complete a chemical cleaning of fuel system components, replenish all fluid to reach proper levels, and check for cleanliness and leaks.
Tune-Up
Did you know that giving an engine a tune-up will give you better gas mileage? Depending on the age and model of your vehicle, our tune-up car service in Lincoln, NE includes a complete inspection of your engine. We also do the replacement of faulty or worn components, spark plugs, air filters, and fuel filters.
Vehicle Electrical Problems
To assess your vehicle's electrical system, specialized diagnostic equipment is used to interpret your vehicle's data and pinpoint the cause of any electronic problems.
Wheel Alignment
Wheel alignment refers to the position of the wheels in relation to the car. When properly aligned, the wheels will be pointing in the right direction. Without proper alignment, the wheels will resist your steering commands and each other. Alignment is also known to affect gas mileage and wire tear. If your tires are pointed in different directions, they'll fight against each other and can cause tread wear.
Additional Tire Services:
Tire Installation
New tire installations include removal of the wheels, an inspection of lug nuts and wheels, installation of new valve systems, mounting and sealing, and inflating and balancing each new tire.
Tire Rotation
Did you know that rotating your tires every 3,000-6,000 miles will help eliminate premature wear and tear? Tire rotation is when the tires on your vehicle are moved from one side of the vehicle to the other, moving them from front to back, or a combination of both. All in all, our mechanics providing this car service in Lincoln, NE will remove your tires. Then, we will inspect the wear patterns, put the tires back on where they will wear most evenly, and reset the tire pressure monitors.
Tire Pressure Monitoring System (TPMS)
Getting your tire pressure monitoring system (TPMS) checked includes checking your vehicle's tire pressure, replacing any pressure sensors, and replacing the valve core, cap, nut, and o-ring before re-mounting tires.
Wheel Balance
Wheel balance refers to the proper distribution of weight on a tire and wheel assembly to ensure a smooth, vibration-free ride. Poor wheel balance can have a marked impact on both your car and your safety.